The American Psychiatric Association (APA) issues an alert over the rising number of state laws aimed at harming trans youth, the FBI just arrested a "gender critical" guy for threatening to bomb the dictionary over its definition of "female," and all JK Rowling seems to do now is anti-transgender activism.
The APA is Worried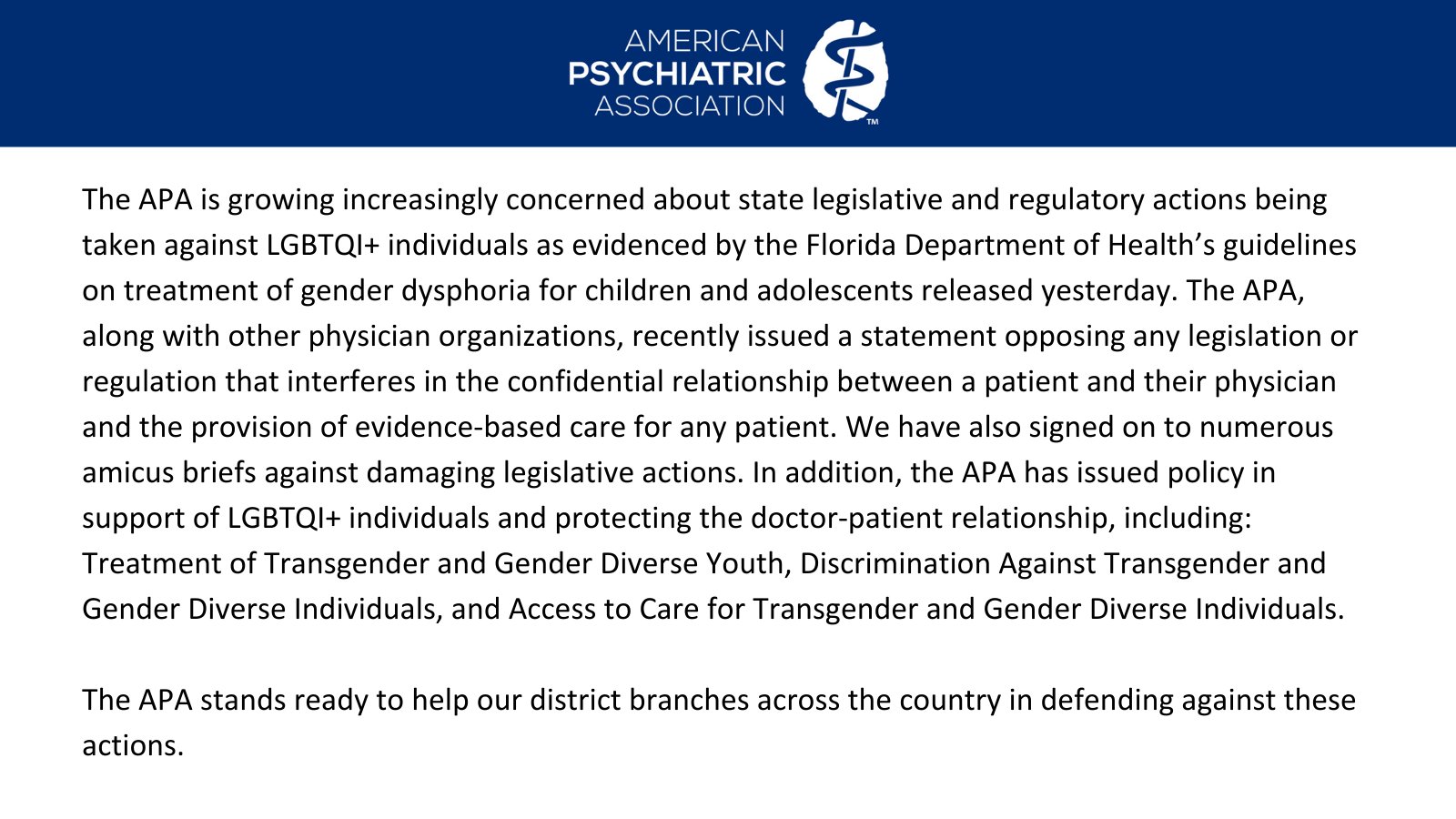 Echoing our own assessment, the APA said the course that Florida and other states are taking will harm trans youth:
Our organizations, representing nearly 600,000 physicians and medical students, firmly believe the trusted relationship between a physician and their patient should never be jeopardized by the actions of policymakers, and a physician should not be criminalized or penalized for providing care.

Our organizations have consistently opposed any legislation or regulation that interferes in the confidential relationship between a patient and their physician and the provision of evidence-based patient care for any patient. Patients must be able to discuss health issues like reproductive care, family planning and gender-affirming care with their trusted physician to determine together what care is best for them.

We reiterate that all patients must have access to evidence-based, comprehensive medical care, and that physicians must be able to practice medicine that is informed by their education, training, and experience. This includes reproductive health services and information and gender-affirming care.

We are deeply concerned that legislation and legal opinions across the country will endanger patients and clinicians by allowing private citizens and policymakers to interfere in health care decision-making. The patient-physician relationship, not politics, is the backbone of medicine.
The APA's statement is consistent with the AMA's recent statement on this same issue:
The FBI Arrests Would-Be Gender Critical Bomber
The Department of Justice released a statement regarding the recent arrest of a man who threatened to go on a murderous rampage because the word "female" did not exclude trans women.
A California man was arrested on Tuesday, April 20, 2022 and charged in federal court in Springfield, Mass. in connection with making threats against Merriam-Webster, Inc.

Jeremy David Hanson, 34, of Rossmoor, Calif., was charged by criminal complaint with one count of interstate communication of threats to commit violence.

"Jeremy Hanson is accused of making hate-fueled threats of violence that crossed a line," said Joseph R. Bonavolonta, Special Agent in Charge of the FBI Boston Division. "Everyone has a right to express their opinion, but repeatedly threatening to kill people, as has been alleged, takes it to a new level. We are always going to pursue individuals who try to intimidate and isolate members of our community by inciting violent, hateful acts. Threats to life are most certainly not protected speech and they cause real fear in victims. Rest assured, the FBI will do everything we can to bring to justice anyone who commits these criminal acts."

According to the criminal complaint, between Oct. 2 and Oct. 8, 2021, Springfield-based Merriam-Webster, Inc. received various threatening messages and comments demonstrating bias against specific gender identities submitted through its website's "Contact Us" page and in the comments section on its webpages that corresponded to the word entries for "Girl" and "Woman." Authorities later identified the user as Hanson. As a result of the threats, Merriam-Webster closed its offices in Springfield and New York City for approximately five business days.

Specifically, it is alleged that on Oct. 2, 2021, Hanson used the handle "@anonYmous" to post the following comment on the dictionary's website definition of "female": "It is absolutely sickening that Merriam-Webster now tells blatant lies and promotes anti-science propaganda. There is no such thing as 'gender identity.' The imbecile who wrote this entry should be hunted down and shot."

Hanson also allegedly sent the following threatening message via the website's "Contact Us" page: "You [sic] headquarters should be shot up and bombed. It is sickening that you have caved to the cultural Marxist, anti-science tranny [sic] agenda and altered the definition of 'female' as part of the Left's efforts to corrupt and degrade the English language and deny reality. You evil Marxists should all be killed. It would be poetic justice to have someone storm your offices and shoot up the place, leaving none of you commies alive."

It is further alleged that on Oct. 8, 2021, Hanson posted another threatening comment on the dictionary's website and a threatening message via the "Contact Us" page that threatened to "bomb your offices for lying and creating fake…".

The investigation identified numerous related threats, including to the American Civil Liberties Union, Amnesty International, Land O' Lakes, Hasbro, Inc., IGN Entertainment, the President of the University of North Texas, two professors at Loyola Marymount University and a New York City rabbi.

Individuals or entities who believe they may be victims of this crime should contact the U.S. Attorney's Office at (888) 221-6023.
JKR goes full Glinner
The billionaire author, JK Rowling appears committed to following in the well-worn footsteps of another British entertainment icon, Graham Linehan, known by his internet persona, "Glinner." Linehan is the co-creator of the iconic British shows Father Ted, Black Books, and The IT Crowd. Linehan became obsessed with "gender critical" anti-trans activism, causing him to be banned from Twitter, alienate past friends, lose work, and cost him his marriage. However, instead of connecting the consequences, he has faced to his actions, instead, he believes that he is a victim of cancel culture, run by a shadowy cabal of powerful elite transgender activists.
JK Rowling has committed to walking this same path. Having recently lost a lucrative movie deal and having been recently criticized and shunned by her Potter co-workers and fans, and becoming estranged from civil society, she is investing more time, attention, and (allegedly) resources into anti-trans activism while, like Linehan, claiming to be a victim of cancel culture.